Start jouw reis langs het modernisme bij OMI Rotterdam. OMI biedt een uniek perspectief op het Simultaan Modernisme met de expo 'Modern by Post-Modern' en organiseert de rondleidingen in de Van Nellefabriek en de Kiefhoek. Hier vind je ook boeken, posters, kaarten en tassen, passend bij de manifestatie.
Start your tour of modernity at OMI Rotterdam. OMI offers a unique perspective on Simultaneity of Modernity with the exhibition 'Modern by Post-Modern' and organizes guided tours of the Van Nelle Factory and Kiefhoek district. Also available here are books, posters, maps and bags that complement the event.

ROTTERDAM en DESSAU waren begin van de twintigste eeuw broedplaatsen van de avant-garde. De pioniers gaven ieder facet van het moderne leven vorm met architectuur, beeldende en toegepaste kunst. Overeenkomstige ideeën leiden tot overeenkomstige hoogtepunten: de Van Nellefabriek en het Bauhaus scholencomplex, Museumparkvilla's en Meisterhäuser, woonwijk De Kiefhoek en de Törten Siedlung. De manifestatie SIMULTAAN MODERNISME brengt de dialoog tussen beide steden weer tot leven, met tentoonstellingen en rondleidingen in deze iconen van het modernisme.
Both ROTTERDAM and DESSAU were hotbeds of avant-gardism in the early twentieth century. Its pioneers shaped every facet of modern life through architecture, visual art and applied art. Similar ideas resulted in comparable highlights: the Van Nelle Factory and the Bauhaus school complex, the Museumpark villas and the Masters' Houses, the Kiefhoek housing district and the Törten Estate. SIMULTANEITY OF MODERNITY rekindles the dialogue between the two cities with exhibitions and guided tours of these icons of modernism.
MODERN BY POST-MODERN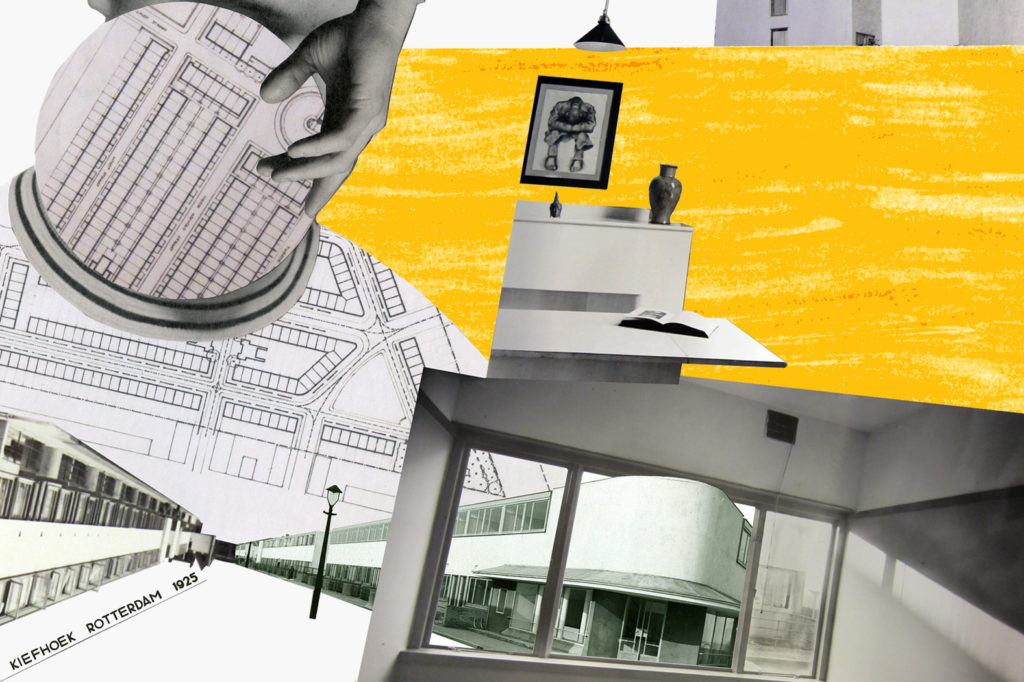 Photoshop is niet meer weg te denken uit ons leven. Maar fotomontages waren honderd jaar geleden al populair bij de dadaïsten en constructivisten. Bij het Bauhaus zetten László Moholy-Nagy en Marianne Brandt deze traditie voort. Zelfgemaakte foto's en beelden uit tijdschriften en kranten werden handmatig omgevormd tot nieuwe composities. De hedendaagse knip- en plakprofessionals van Post-Modern geven met hun collages een nieuw perspectief op het Rotterdamse modernisme. Historische beelden van de Van Nellefabriek, Huis Sonneveld en De Kiefhoek worden verwerkt tot eigenzinnige (post)moderne stadsgezichten.
It's hard to image life without Photoshop. But a century ago photomontages were already popular among Dadaists and Constructivists. László Moholy-Nagy and Marianne Brandt continued this tradition at the Bauhaus. They combined by hand their own photographs with images taken from magazines and newspapers to create new compositions. Contemporary cut-and-paste professionals, Post-Modern present collages that offer a new perspective on modernism in Rotterdam. Historical images of the Van Nelle Factory, Sonneveld House and the Kiefhoek district are transformed into unique post-modern cityscapes.
VAN NELLE FABRIEK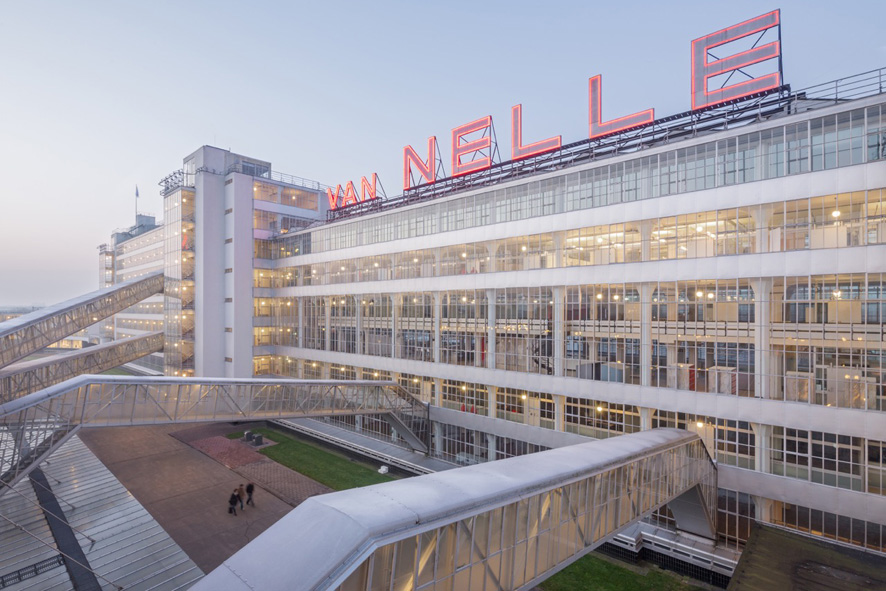 De Van Nellefabriek is hèt voorbeeld van het Nieuwe Bouwen, in 2014 uitgeroepen tot UNESCO Werelderfgoed. Het ontwerp is baanbrekend; licht, lucht en ruimte gaven een nieuwe betekenis aan de architectuur van de fabrieken voor koffie, thee en tabak. Op de zevende verdieping is nu een tentoonstelling gewijd aan Rotterdam en Dessau. De tentoonstelling 'Simultaan Modernisme' geeft inzicht in het ontstaan van het modernisme in beide steden, de belangrijkste protagonisten en hun ontwerpen. OMI organiseert rondleidingen door de fabriek, afzonderlijk kun je de tentoonstelling bezoeken.
The ultimate symbol of the Nieuwe Bouwen style, the Van Nelle Factory was designated a UNESCO World Heritage Site in 2014. The design is revolutionary: light, air and space gave new meaning to the architecture of factories for coffee, tea and tobacco. The exhibition 'Simultaneity of Modernity' devoted to Rotterdam and Dessau, now on display on the seventh floor, sheds light on the origins of modernism in both cities, its most important protagonists and their designs. OMI offers guided tours of the factory, the exhibition can be visited separately.
WOONWIJK DE KIEFHOEK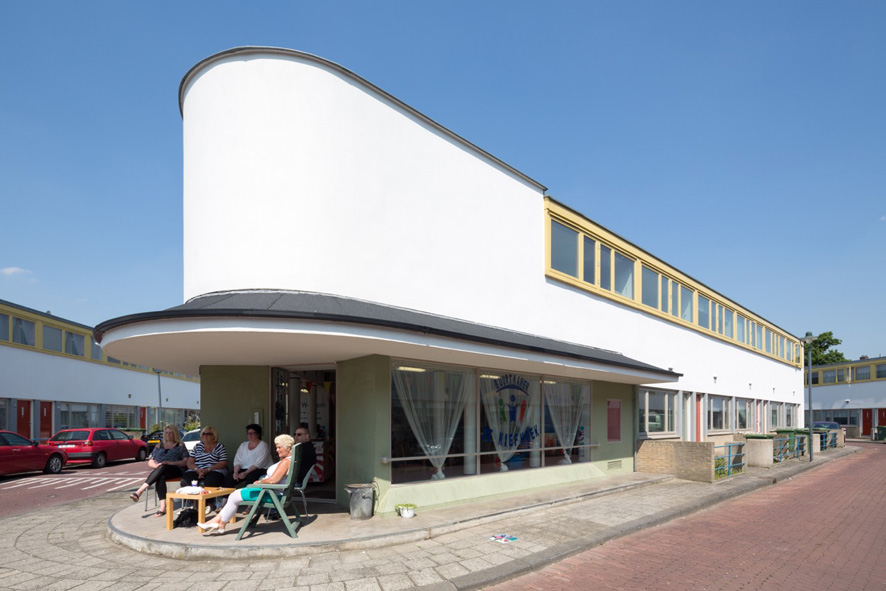 Rotterdam-Zuid kent een prachtige aaneenschakeling van experimentele en moderne woonwijken. De Kiefhoek van architect J.J.P. Oud is een onbetwist hoogtepunt in de Nederlandse architectuurgeschiedenis. De woningplattegronden waren uitermate functioneel, op slechts 61m2 werd met slimme architectonische ingrepen een maximum aan wooncomfort gerealiseerd. De inspiratie van kunststroming De Stijl is te zien in het kleurgebruik: rode voordeuren, gele raamkozijnen en blauwe tuinhekken. Nadat van 1990 tot 1995 de wijk opnieuw is gebouwd is het straatbeeld intact gebleven. De Museumwoning laat zien hoe oorspronkelijk in De Kiefhoek werd gewoond. Bezoek de wijk en deze uitzonderlijke woning onder leiding van een gids.
Rotterdam South boasts a wonderful array of experimental modern neighbourhoods. The Kiefhoek neighbourhood by architect J.J.P. Oud is a high point in Dutch architectural history. The floor plan of the dwellings was extremely functional, with smart architectural interventions maximizing domestic comfort on just 61 m2. The influence of the art movement De Stijl is literally evident in the use of colour: red front doors, yellow window frames and blue garden fences. Between 1990 and 1995 the whole neighbourhood was redeveloped, but the streetscape was left intact. The museum house was rebuilt to its original design. Join a guided tour through te neighbourhood and see the extraordinary house yourself.
WITTE VILLA'S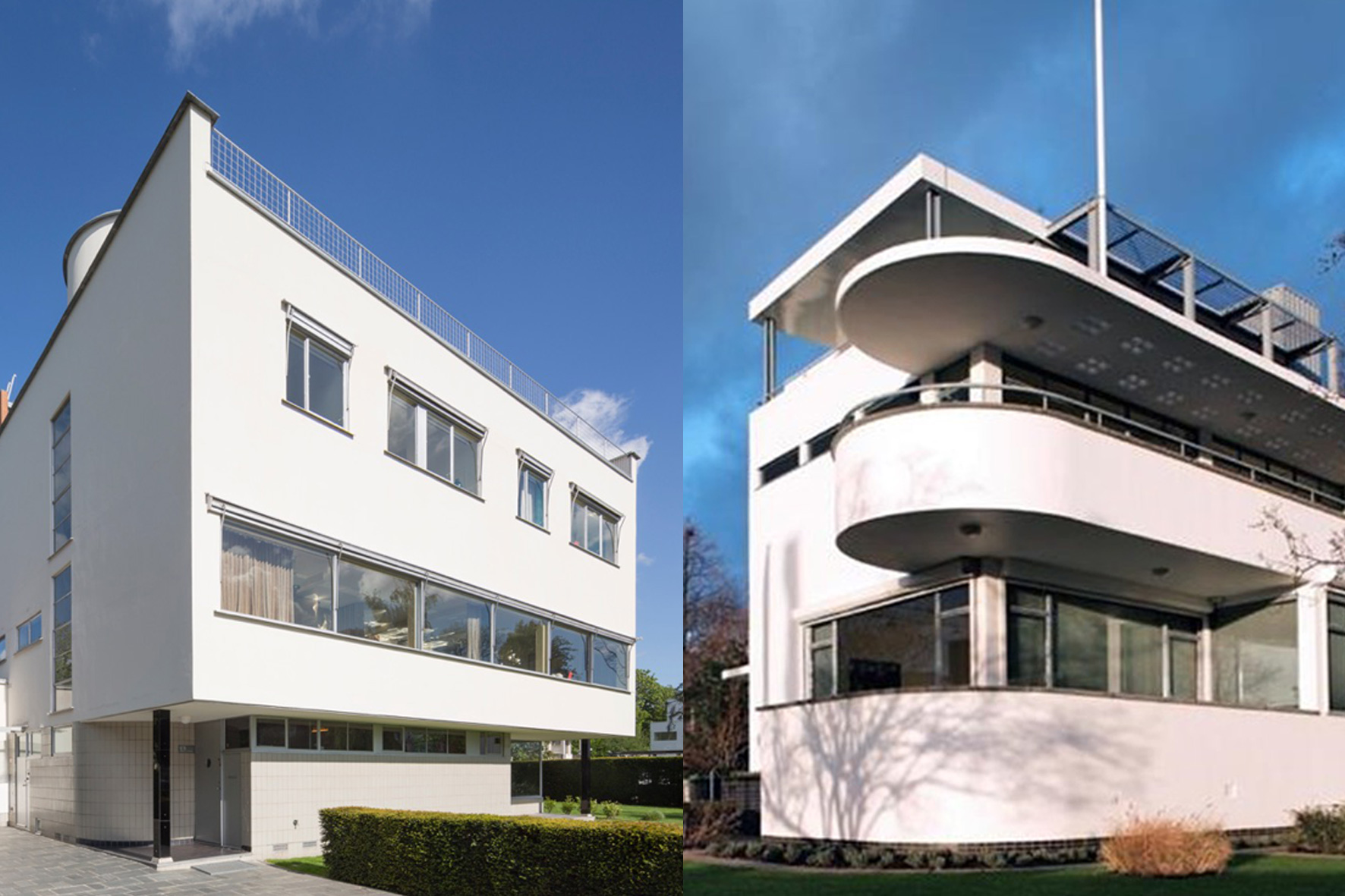 In het Museumpark, het voormalige Land van Hoboken, staan prachtige moderne villa's. In het ontwerp zijn de principes van de moderne architectuur terug te vinden, zoals de open indeling, lichte ruimten en het 'opgetild' wonen. Albertus Sonneveld, zakelijk directeur bij de Van Nellefabriek, koos de architecten Brinkman & Van der Vlugt. Huis Sonneveld, teruggebracht in oorspronkelijke staat, geeft een perfect beeld van het leven van de familie in een hypermoderne villa anno 1933. Het Chabot Museum toont met de tentoonstelling Bauhaus Dessau – Branding Rotterdam de kunst – schilderijen, beelden, tekeningen – van Henk Chabot en zijn tijdgenoten in Rotterdam en Dessau.
Museumpark, previously known as Land van Hoboken, is home to some splendid modernist villas. Their designs reflect the principles of modern architecture, such as the open plan, light-filled rooms and 'raised' living spaces. Albertus Sonneveld, managing director of the Van Nelle Factory, appointed the architects Brinkman & Van der Vlugt to design the house. Now restored to its original condition, Sonneveld House offers a perfect glimpse of family life in an ultra-modern villa in 1933. With the exhibition Bauhaus Dessau – Branding Rotterdam, Chabot Museum presents the art – paintings, sculptors, drawings – of Henk Chabot and his contemporaries in Rotterdam and Dessau.
OPENING TIMES
OMI Rotterdam
Schiekade 205
Mon – Fri 10:00-18:00 | Sat – Sun 11:00-17:00
---
Museumpark 11
Tue – Fri 11:00-16:30 | Sat 11:00-17:00 | Sun 12:00-17:00
---
Jongkindstraat 12
Tue – Sat 10:00-17:00 | Sun 11:00-17:00
---
Van Nelleweg 1
Tue – Fri 13:00-16:00 | Sat – Sun 11:00-16:00
TICKETS
Combi Ticket Simultaan Modernisme
Chabot Museum + Huis Sonneveld + Van Nelle Factory
Tickets € 17.50
---
Van Nelle Factory Guided Tour*
Tickets € 20.00 (€ 7,50 with combi ticket)
Tue – Sun 14:30
Sat – Sun 12:30 
*including acces to the expo at the Van Nelle Factory
---
De Kiefhoek Guided Tour
Masterpieces Simultaan Modernisme
Rotterdam ademt moderne architectuur met vele meesterwerken. De serie Masterpieces brengt ze in beeld met originele tekeningen en historische foto's van het archief van Het Nieuwe Instituut.
Nieuw in de collectie is de Kiefhoek masterpiece.
Rotterdam breathes modern architecture with numerous highlights. The Masterpieces explore them with original drawings and historical photographs from the archive of The New Institute. 
New in the collection is the Kiefhoek Masterpiece.
More Simultaan Modernisme
OMI on field trip: Dessau

December 2016, OMI had the opportunity to visit Bauhaus, Masters' Houses and Torten Estate in Dessau, with a group of…

Read more
Rotterdam's architecture is placed in a new perspective with special itineraries, photos, postcards, maps and more.
Visit us at Schiekade 205, Rotterdam