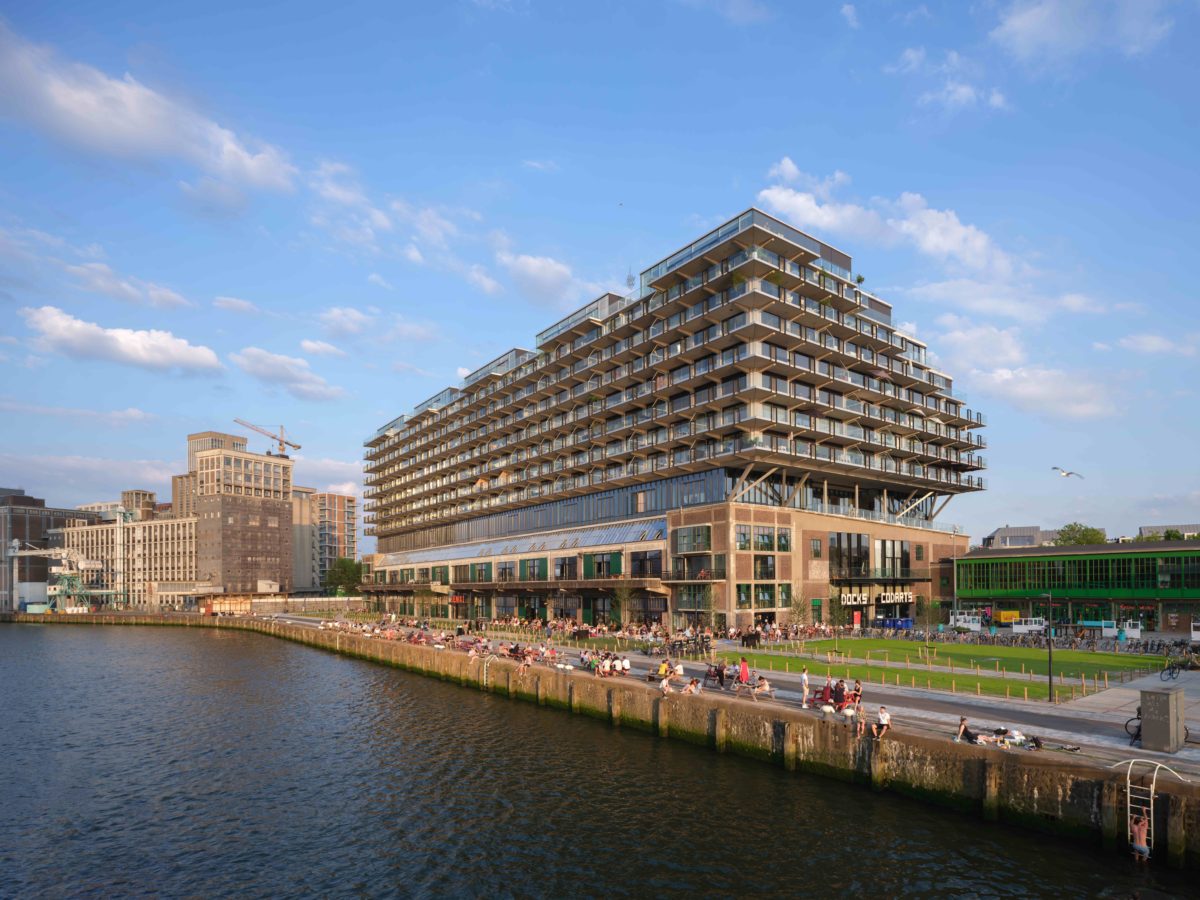 Mei architects and planners is een internationaal opererend en prijswinnend architectenbureau. De spectaculaire Fenix I op Katendrecht won tal van prijzen, waaronder de Rotterdam Architectuurprijs 2019 – vakjury én publiek – en de ICONIC Award 2020 voor innovatieve architectuur. Bij OMI presenteert Mei hun Rotterdamse projecten met maquettes, tekeningen en foto's. In de expositie is er aandacht voor hun werk en werkwijze, een bijzondere combinatie van renovatie, herbestemming en vernieuwing. Of het nu gaat om de transformatie van de vooroorlogse Fenixloods of pakhuis Jobsveem, het in ere herstellen van De Lijnbaan of de nieuwbouw op de historische locatie van de Schiecentrale; Mei geeft telkens een eigenzinnige invulling aan de verschillende tijdslagen in de stad.

Mei architects and planners is an internationally operating and award-winning architectural firm. At OMI, Mei presents their Rotterdam projects through models, drawings and photos. The exhibition showcases their work and methods, a special combination of renovation, conversion and renewal. Whether it is about the transformation of the pre-war Fenix warehouse or Jobsveem, restoration of De Lijnbaan or the new buildings at the historic location of the Schiecentrale; Mei knows how to give a unique interpretation to different periods of the city.

Openingstijden | Opening hours
Donderdag, vrijdag en zaterdag, van 13.00–18.00.
Thursday, Friday and Saturday, from 13.00–18.00.

De tentoonstelling is tot stand gekomen met de medewerking van Freebird Aluminium.
Coming Soon
HIBERNATION | Sander van Wettum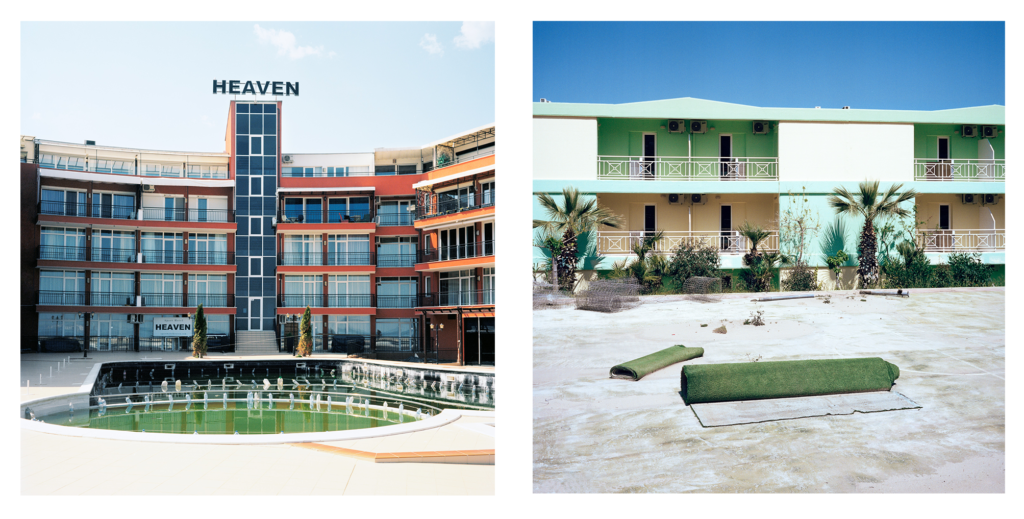 28 mei t/m 4 juli 2021
Hibernation is een ontdekkingstocht langs Zuid-Europese badplaatsen, gefotografeerd tijdens het laagseizoen.
Bij OMI neemt fotograaf Sander van Wettum je mee naar populaire vakantiebestemmingen aan de Middellandse zee. Hij laat ze zien op momenten dat er geen toeristen zijn. Je maakt een fascinerende reis langs desolate landschappen en fantasierijke gebouwen. De fotoserie gaat over dromen en verlangens, maar ook over de gevolgen van het massatoerisme op de natuur en het landschap. De kustplaatsen bieden een surreëel beeld als de hoofdrolspelers niet aanwezig zijn. In een tijd van een wereldwijde pandemie is 'Hibernation' actueler dan ooit. Tijdens de tentoonstelling wordt bij OMI het gelijknamige fotoboek gepresenteerd.
Hibernation is an exploration of South European seaside resorts, photographed during the off-season.
At OMI, photographer Sander van Wettum takes you to popular holiday destinations on the Mediterranean. He shows these places when there are no tourists, in a fascinating journey along desolate landscapes and imaginative buildings. The photo series is about dreams and desires, but also about the impact of mass tourism on nature and the landscape. The coastal towns offer a surreal image when the protagonists are not present. At a time of a global pandemic, 'Hibernation' is more relevant than ever. His book of the same name will be presented at OMI during the exhibition.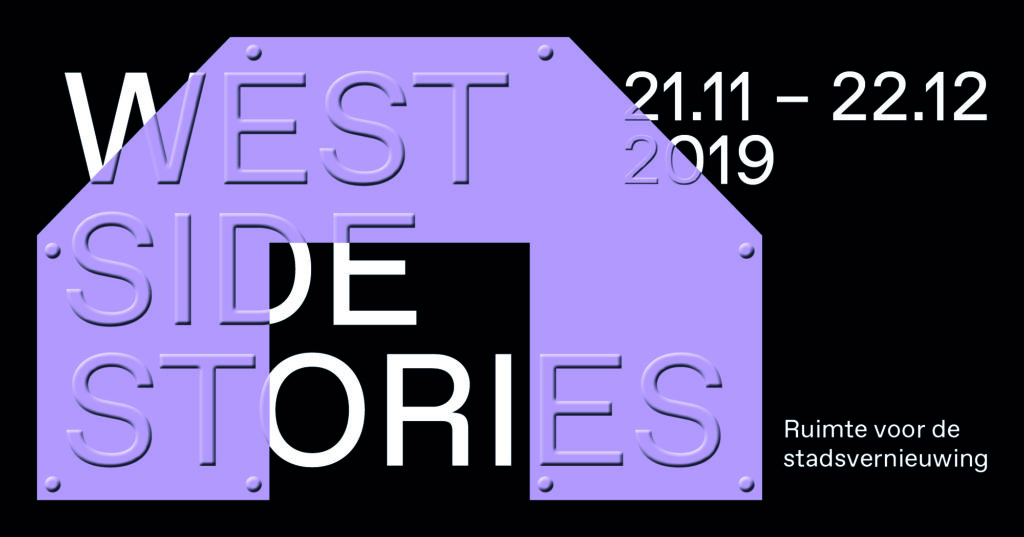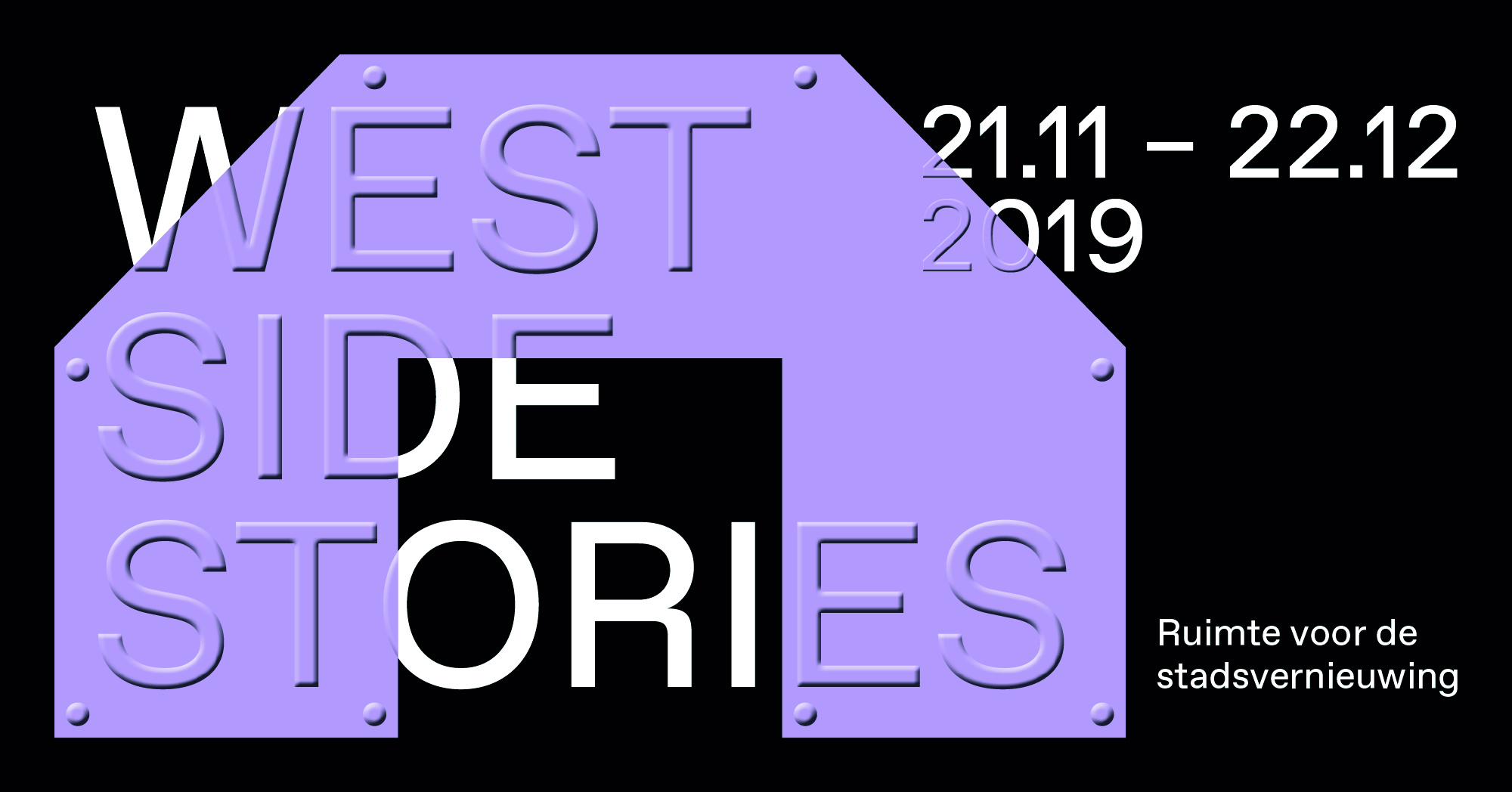 OMI presenteert van 21 november t/m 22 december de manifestatie West Side Stories. Met een tentoonstelling, stadsroutes, lezingen en filmavonden wordt de roemruchte stadsvernieuwing in het Oude Westen van Rotterdam belicht en tonen ontwerpers, kunstenaars en fotografen een nieuwe kijk op de wijk.
De tentoonstelling geeft een beeld van de buurtprotesten met de posters, buurtkranten, strips en pamfletten van de Aktiegroep Oude Westen. In luisterfragmenten hoor je de verhalen van architecten, filmbeelden tonen de wijk van vroeger en interieurfoto's laten de wijk anno 2019 zien. Je ziet op kaarten en plattegronden hoe er meer ruimte is gekomen in de wijk en geëxperimenteerd is met woonvormen. ArchitectuurMaken, Bart Isings, Charlie Koolhaas en Studio Verter brengen het Oude Westen van nu in kaart op basis van verkenningen door de wijk. In de essays van architecten en critici – Tim Verlaan, Lidwine Spoormans, Florian Urban, Endry van Velzen – wordt een eigentijdse herwaardering aan deze periode gegeven.
De tentoonstelling is van 21 november t/m 22 december, donderdag t/m zondag van 13:00 tot 18:00 uur te zien bij OMI aan de Schietbaanstraat 21, buiten op het Rijnhoutplein en in het Hobokenpand aan het plein. De Aktiegroep Oude Westen (Gaffelstraat 1) presenteert deze periode persoonlijke portretten en verhalen van bewoners uit de wijk, van ma. t/m vr. 9:00 tot 17:00 uur.
OMI organiseert in het kader van West Side Stories een reeks lezingen, debatten en filmvertoningen die plaatsvinden in Leeszaal West. De eerste in de serie is de boekpresentatie van 'Stadsvernieuwing in Rotterdam' tijdens de opening van de tentoonstelling. In het nieuwe boek van nai010 uitgevers beschrijft Ben Maandag de ontwikkelingen in vijf stadsvernieuwingswijken en laat de betekenis ervan zien voor het tegenwoordige Rotterdam. 
From 21 November to 22 December, OMI is organizing an event series entitled West Side Stories. Illuminating the celebrated urban renewal of the Oude Westen district in Rotterdam, the series features an exhibition, guided tours, lectures and film screenings, and invites designers, artists and photographers to present their view of the district.
The exhibition showcases the neighbourhood protests with posters, local papers, cartoons and pamphlets from the Oude Westen Action Group. Audio material lets you hear the stories of architects, film footage shows what the neighbourhood looked like in the past, and interior photos introduce current residents. Maps and plans reveal how designers created more space in the neighbourhood and experimented with forms of housing. ArchitectuurMaken, Bart Isings, Charlie Koolhaas and Studio Verter have explored and mapped the Oude Westen as it is now. Essays by architects and critics — Tim Verlaan, Lidwine Spoormans, Florian Urban and Endry van Velzen — critically reassess the period from the perspective of today.
The exhibition runs from 21 November to 22 December and is open Thursday to Sunday, from 1 to 6 PM, at OMI on Schietbaanstraat 21, outdoors on Rijnhoutplein, and in the Hoboken building on the square. Throughout this period, the Oude Westen Action Group (Gaffelstraat 1) is presenting portraits and stories of local residents, from Monday to Friday, 9 AM to 5 PM.
Within the framework of West Side Stories, OMI is organizing a series of lectures, debates and film screenings at Leeszaal West. The first in the series is the presentation of the book Stadsvernieuwing in Rotterdam during the exhibition opening. In this new book from nai010 Publishers, Ben Maandag chronicles developments in five urban renewal districts, examining their significance for today's Rotterdam.
Avonden tijdens | Evenings during
West Side Stories
Strijd om de Stad
wo 11 december 20:00 | Leeszaal Rotterdam West
Over de stadsvernieuwing in het Oude Westen bestaat fascinerend beeldmateriaal, boordevol historische beelden, de 'akties' en idealistische bewoners. Deze avond laten we een selectie zien met filmfragmenten uit de jaren '70. Aansluitend gaan we in discussie over de toekomst van het Oude Westen met een aantal actieve buurtbewoners met hun unieke verhalen en initiatieven. 
De teloorgang van de oude stadswijken en de wijze waarop hier door bewoners, politici en architecten op werd gereageerd is vastgelegd in documentaires en films. De makers plaatsen de stadsvernieuwing in een breder kader van stedelijke en maatschappelijke ontwikkelingen. Ze laten de bewoners zien, de besluitvorming en bovenal de idealen die door documentairemakers ook van commentaar worden voorzien. Aan de hand van historisch filmmateriaal wordt gesproken over de rol van bewoners in de wijk als het gaat om de ontwikkeling ervan. Aansluitend is er een discussie met bewoners die nu aan bijzondere buurtinitiatieven werken, zoals Marja Brand (Tuin de Bajonet), Kris de Leeuw (Tandoor16) en Joke van der Zwaard (Leeszaal West).
Urban Renewal Revisited 
do 12 december 20.00 | Leeszaal Rotterdam West
Architects and critics talk about their analysis of the urban renewal in the Oude Westen neighbourhood; the design, the use of public space and the social change. Lidwine Spoormans (TU Delft), Endry van Velzen (De Nijl architecten) and Tim Verlaan (UvA) wrote an article about the historical and contemporary meaning of the 'stadsvernieuwing'. Roxane van Hoof (Studio Verter) and Charlie Koolhaas explored the neighbourhood by mapping the architecture and street life. Jurian Voets graduated with a proposal – Intense Stad – for the neighbourhood, including a revision of the urban renewal. Under the moderation of JaapJan Berg, they will discuss their statements on the future of the Oude Westen.
Streetwise
wo 18 december 20.00 | Leeszaal Rotterdam West
Wat is de betekenis van de straat als sociale ruimte? Tijdens deze avond gaan we dieper in op de beroemdste straten van het Oude Westen: de Nieuwe Binnenweg en de West-Kruiskade. Straten die de unieke wereld van Rotterdam en haar bewoners vertegenwoordigen. We kijken naar de toekomst van de stadsstraat en de levendige discussies hierover. Ook wordt de film 'A Trip down the Memory Block' van Victor D. Ponten vertoond.
Wandelingen tijdens 
West Side Stories
Hoodwalk Oude Westen met Adison dos Reis
woe 18 december 18:30 – 19:45 | Start: OMI, Schietbaanstraat 21
Voorafgaand aan die avond Streetwise kun je mee met een hoodwalk van Adison dos Reis door het Oude Westen! Een unieke ervaring waarbij je luistert naar tracks van zijn aankomende muziektape 'Volwassen mannen raps' en artiesten die hem hebben geïnspireerd, terwijl je door de wijk loopt langs zijn speciale plekken.
Walk through Oude Westen
Sunday 22 December, 13.00 | Start: Rijnhoutplein 
Sunday stroll through Oude Westen neighbourhood at the last day of West Side Stories. A tour that leads you along different urban renewal projects and the hidden 'rooms' of the neighbourhood. The tour starts at the Rijnhoutplein and ends with a visit of the exhibition at OMI.