Start your journey through Rotterdam at the Office for Metropolitan Information.
OMI offers a unique urban experience for everyone interested in city culture, architecture and metropolitan development. A public center for architecture, with an information desk, exhibition space, bookshop and an extensive excursion programme. 
Start jouw reis door Rotterdam bij het Office for Metropolitan Information.
OMI biedt een unieke stedelijke ervaring voor iedereen die is geïnteresseerd in stadscultuur, architectuur en stedelijke ontwikkeling. Een publiek centrum voor architectuur met een informatiebalie, exporuimte, boekwinkel en een uitgebreid excursieprogramma.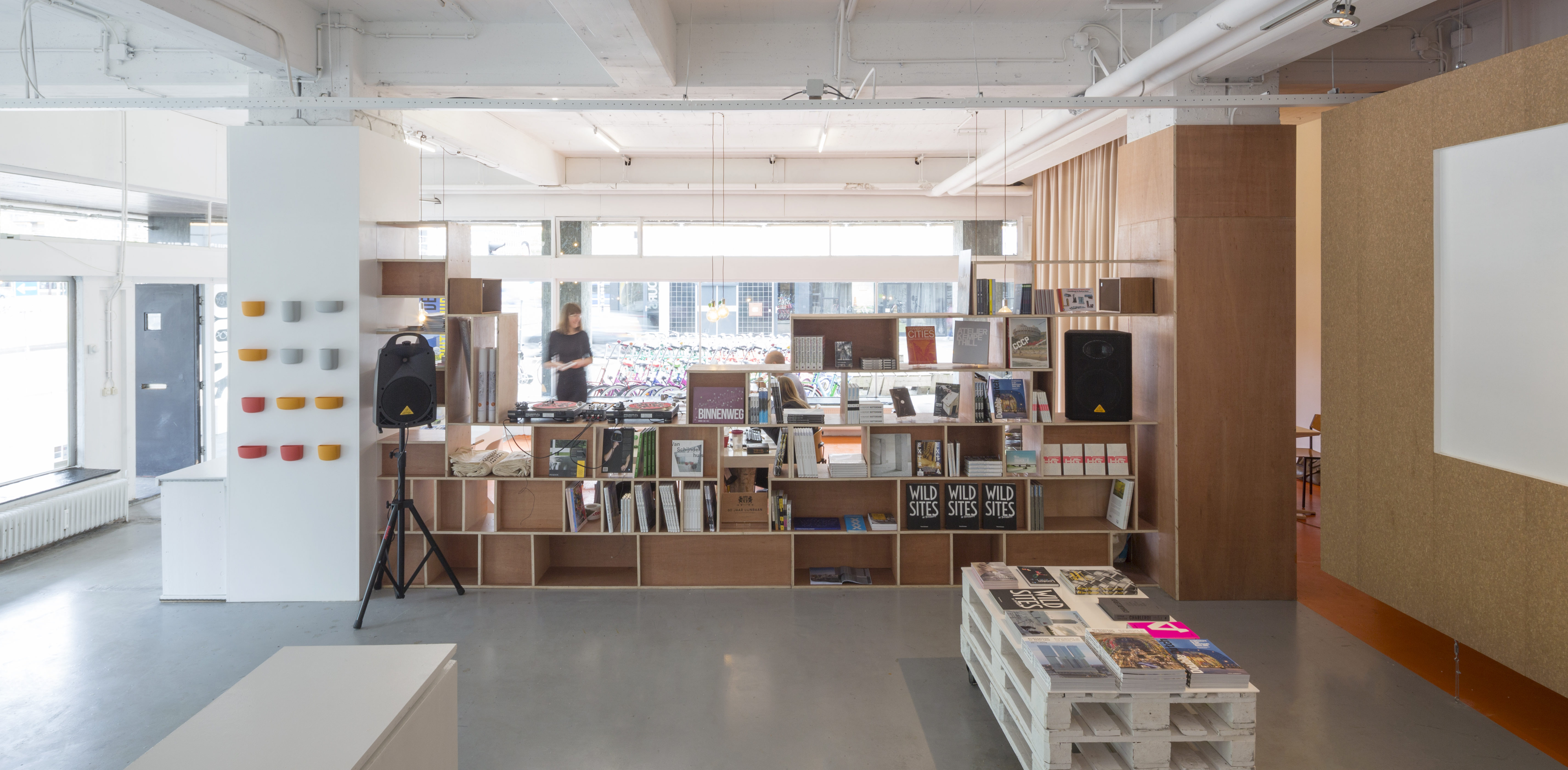 OMI is packed with city information for the urban travellers visiting Rotterdam. A wide spectrum of information about the city's culture; from its world-wide known icons to the city's hidden gems. With maps, guides, tours and the ease of renting a bike at location, you can explore the city at its best.
OMI heeft alle informatie voor stadsbezoekers om Rotterdam te verkennen. Uitgebreide informatie over de stad, haar cultuur en architectuur; van de wereldbekende iconen tot de verborgen juweeltjes. Met stadskaarten, gidsen, rondleidingen en fietsverhuur is OMI het ideale vertrekpunt om de stad te ontdekken.
OMI offers an exhibition place that presents changing urban themes. Each installation is specifically made for OMI and encircled with a thematic programme of tours and events, connecting architecture, art and traveling.
OMI presenteert in de exporuimte stedelijke thema's met tentoonstellingen en installaties. Iedere installatie wordt special gemaakt voor OMI. Aansluitend op het thema zijn er tours en evenementen die architectuur, kunst en reizen met elkaar verbinden.
In OMI there is an array of books and city guides specially selected for the urban travellers of Rotterdam. This selection is made from the extensive collection of the renowned NAi Booksellers that houses in Het Nieuwe Instituut.
In OMI vind je een scala aan boeken en stadsgidsen die speciaal zijn geselecteerd voor de stadsreizigers. De selectie is gemaakt uit de uitgebreide collectie van de gerenommeerde NAi Boekverkopers die in het Nieuwe Instituut zijn gevestigd.
In OMI, while you are wandering around the exhibition, browsing through the books or waiting for your excursion, you can enjoy a cup of our freshly brewed Evermore coffee, a tea or soft drink.
Terwijl je de tentoonstelling bekijkt, aan het grasduinen bent in de boekwinkel of wacht op de start van een rondleiding, kan je genieten van een vers gemaakte Evermore koffie, thee of een frisdrank.
OMI is an initiative of UrbanGuides, Perplekcity and Ossip Architecture Photography. These organisations offer city explorations, urban programming and photography combined in one place. OMI also offers space for partners to create and present new city programs.
OMI is een initiatief van UrbanGuides, Perplekcity en Ossip Architectuurfotografie. Met deze organisaties wordt het aanbod van stadsverkenningen, stedelijke programmering en fotografie gebundeld op een plek. OMI biedt partners ruimte om hun stadsprogramma's te presenteren.
---
Location: Schiekade 205, 3013 BR  Rotterdam, The Netherlands
Open: Monday – Friday 10:00 – 18:00
Telephone: +31 10 465 22 28
Mail: omi@omirotterdam.nl