OMI is a public center for architecture and city culture, with an information desk, exhibition space, bookshop and an extensive excursion programme.
VAN NELLE FABRIEK
The Van Nelle Factory from 1931 is a wonderful example of Dutch Modernism, and is declared a UNESCO World Heritage Site in 2014. This unique factory is world famous for its progressive design whereby light, air and space gave new meaning to architecture. With an experienced guide, in a 60-minutes tour, you hear all about the architecture, the history of Van Nelle, the production process and the transformation of the factory.
De Van Nellefabriek uit 1931 is een prachtig voorbeeld van het Nederlands modernisme en in 2014 uitgeroepen tot Unesco Werelderfgoed. Wereldberoemd vanwege het progressieve ontwerp; licht, lucht en ruimte gaven een nieuwe betekenis aan de architectuur. Onder leiding van een ervaren gids, in een tour van 60 minuten, kom je alles te weten over de architectuur, de geschiedenis van Van Nelle, het productieproces en de transformatie van de fabriek.
Sat & Sun, 10:30
Price: € 15,- (Children 4-12, € 7,50 / Students € 12,-)
Tickets
Start: Van Nelleweg 1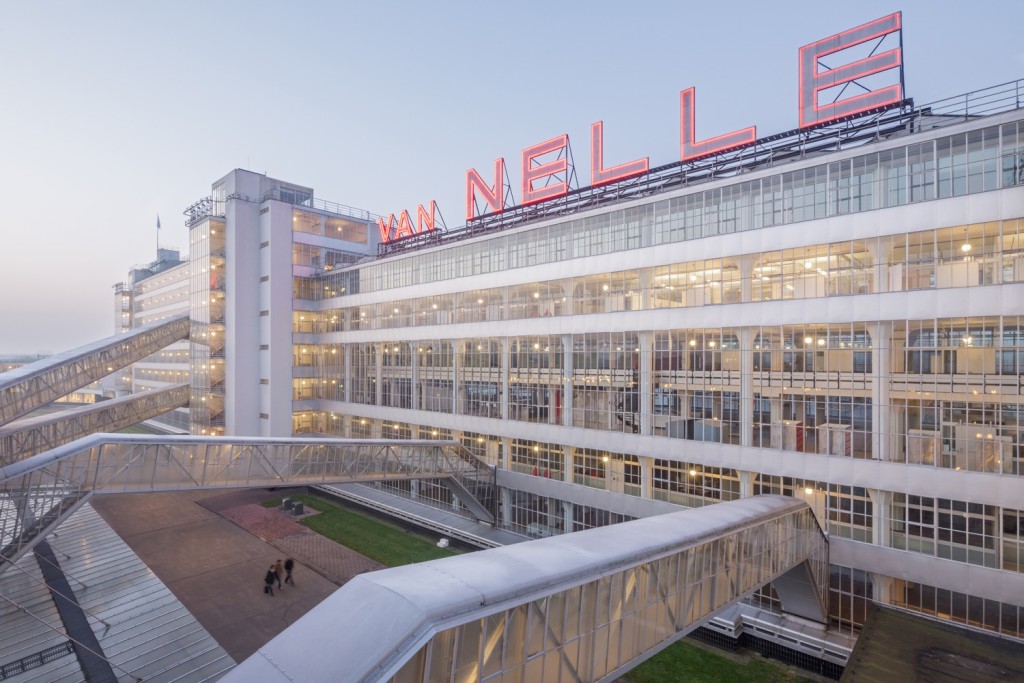 ROTTERDAM BYCYCLE
Get on your bike and discover the progressive architecture of Rotterdam. In 2.5 hours, you'll crisscross through the city centre, across the impressive bridges, along the quaysides and get off your bike to better experience these spectacular buildings. The entire history of modern architecture will pass by you.
Stap op de fiets en ontdek de vernieuwende architectuur in Rotterdam. In 2,5 uur fietst u kriskras door het stadscentrum, over de imposante bruggen, langs de havenkades en stapt u af om de spectaculaire gebouwen beter te ervaren.De gehele moderne architectuurgeschiedenis trekt aan u voorbij.
Sat 10:30 / Sun 12:00
Price: € 25,- (Children 4-12, € 17,50 / Students € 20,-)
Tickets
Start: OMI, Schiekade 205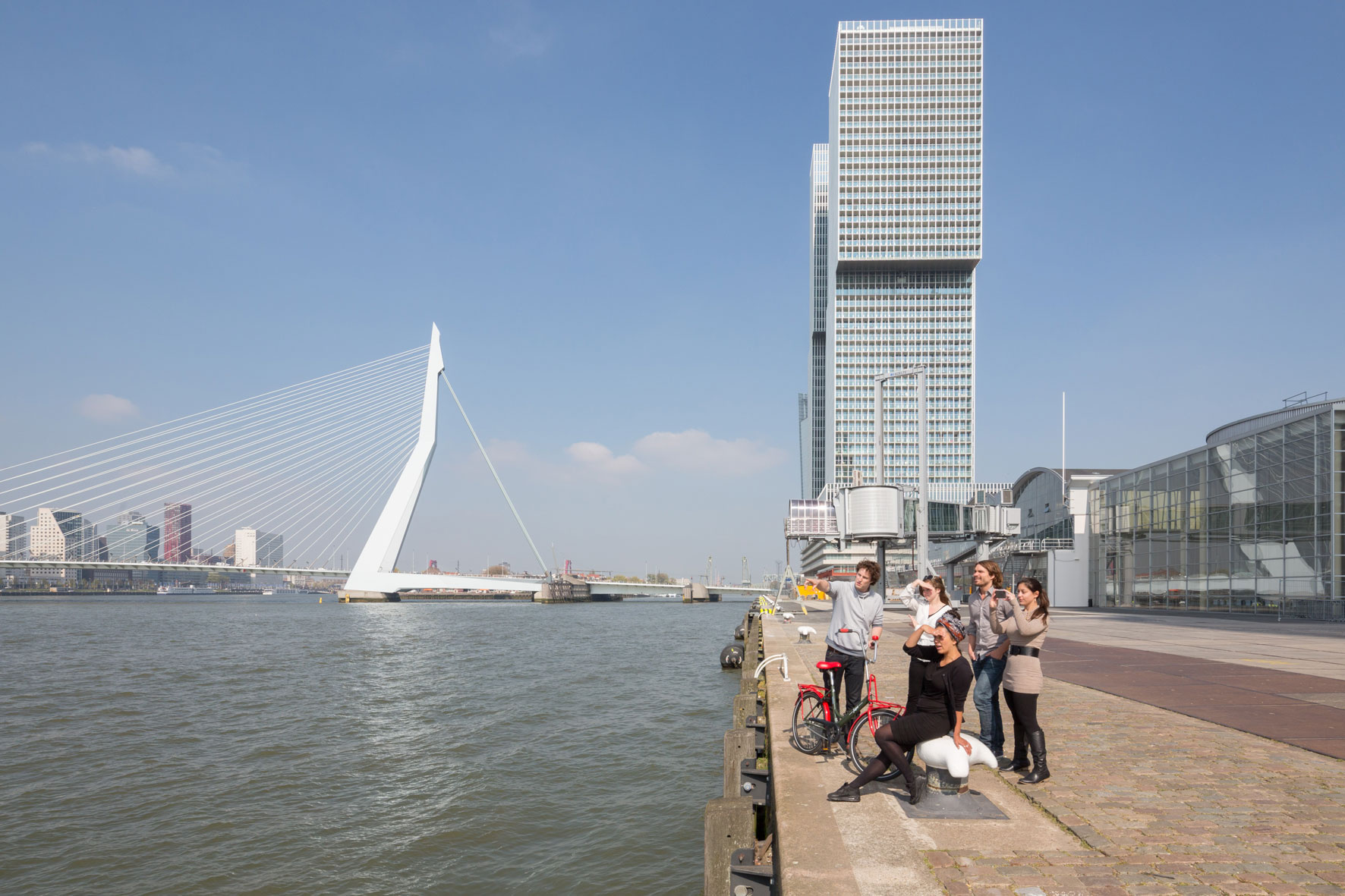 ARCHITECTURE MAPS RDAM
Maps & Routes
De architectuurkaart brengt Rotterdam in beeld met kaarten, foto's en routes. In een uniek ontwerp van 75B, met de nieuwste foto's van architectuurfotograaf Ossip van Duivenbode en de support van AIR. Ruim 300 bouwwerken tonen de rijkdom aan bijzondere architectuur zoals pleinen, parken, bruggen, tunnels, woningen, winkels, café's, kantoren, musea en pakhuizen. Ga op reis langs de projecten en proef de sfeer van de verschillende stadsdelen: De groene oases in Oost, de industriële architectuur in West, de experimentele woningbouw in Zuid en de stedelijke recreatie in Noord. Voor slechts € 8,95 verkrijgbaar bij OMI en NAi Bookverkopers.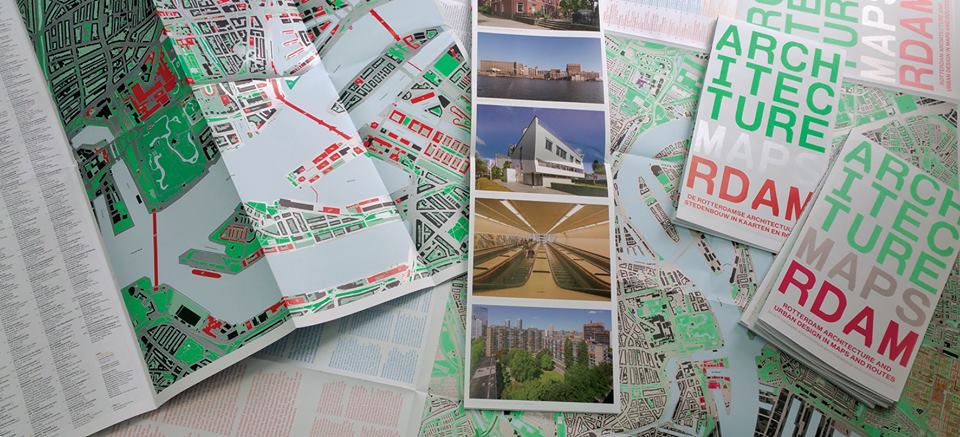 The Architecture Maps surveys Rotterdam in maps, photographs and routes. A unique design by 75B, with the newest photos by Ossip van Duivenbode and the support of AIR. Over 300 sites showcase the best projects of the city. The numerous attractions include squares, parks, bridges, tunnels, houses, shops, cafés, offices, museums and warehouses. Travel from project to project and savour the atmosphere of distinctive districts: green oases in East, industrial architecture in West, experimental housing in South an urban recreation in North. Now available for € 8.95 at OMI and NAi Booksellers.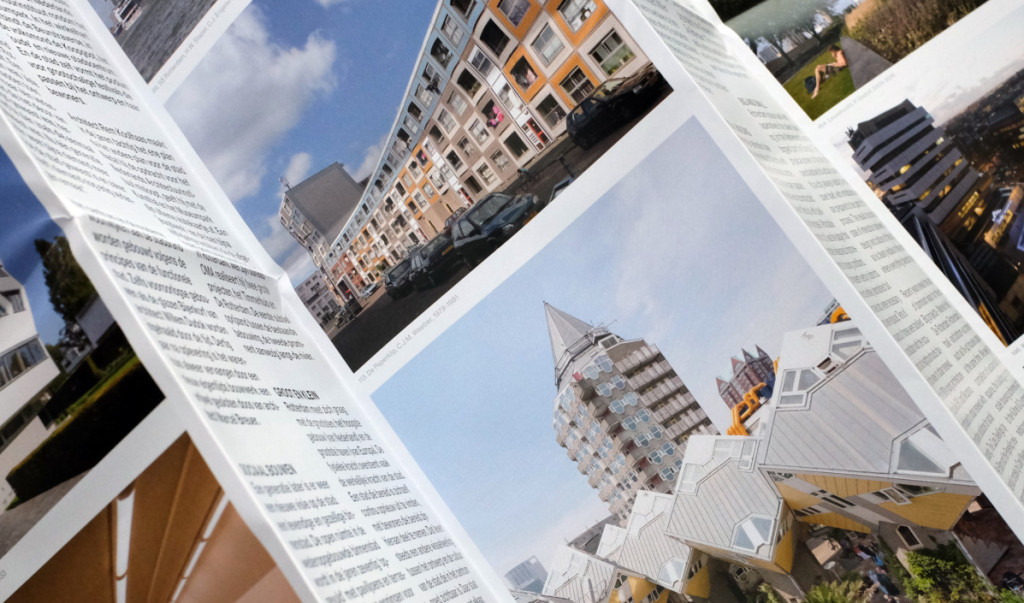 ART & ARCHITECTURE MAP
75 Years Rotterdam
Een speciale routekaart, gemaakt in samenwerking met CBK Rotterdam, leidt langs de naoorlogse kunst en architectuur: 75 jaar Rotterdam in een notendop. De route voert door de Rotterdamse binnenstad, van het nieuwe Centraal Station naar de spectaculaire Markhal. Onderweg is er aandacht voor markante gebouwen en beeldende kunst die de afgelopen 75 jaar zijn gerealiseerd. Voor slechts € 3,50 verkrijgbaar bij OMI en NAi Boekverkopers.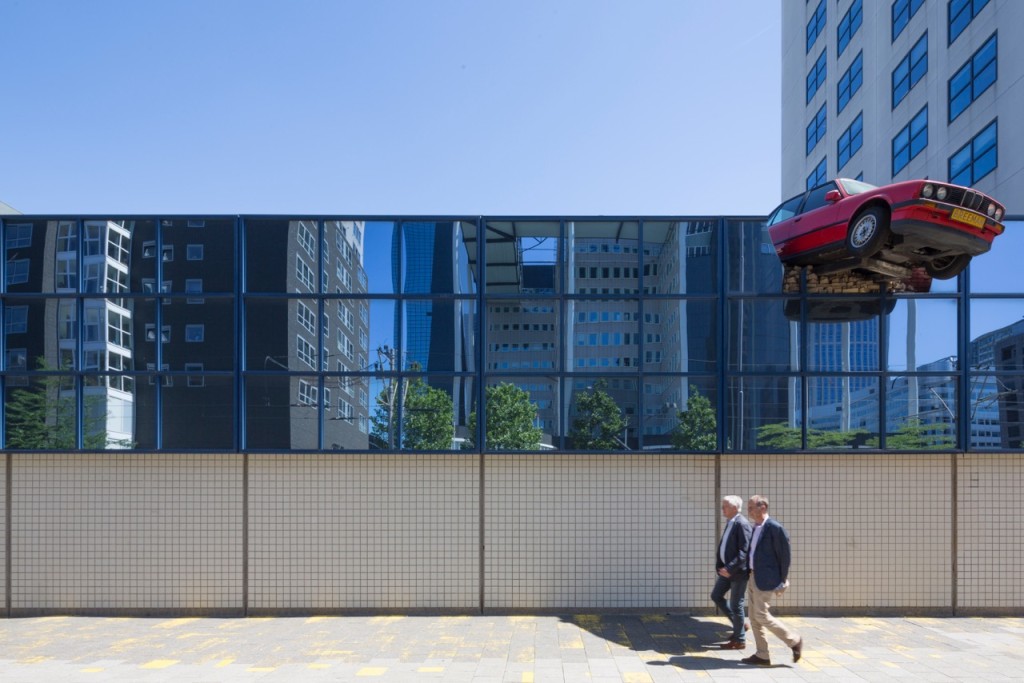 A specially designed roadmap, made in collaboration with CBK Rotterdam, leads you along Rotterdam's post-war art and architecture.The route runs through the centre of Rotterdam, from de brand-new Central Station to the spectacular Market Hall. Along the way, it takes striking buildings and beautiful works of arts that have been added to the city over the past 75 years. One may call it '75 years of Rotterdam in a nutshell'. Now available for € 3,50 at OMI and NAi Booksellers.