THE EINDHOVEN SCHOOL
a crucial, yet forgotten,
moment in dutch
architecture history…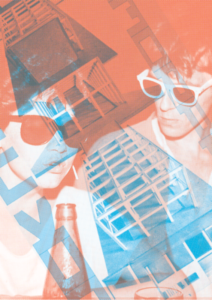 'The Eindhoven School: a forgotten avant-garde' is the result of a long-term research project by the Curatorial Research Collective. Throughout the 1980s, a group of architects educated at Eindhoven University of Technology (TU/e) came to be known as the 'Eindhoven School'. This forefront of Dutch architecture, with diverse architects like Wim van den Bergh, Jo Coenen, Sjoerd Soeters, Bert Staal and Gert-Jan Willemse, had a shared interest in history and theory. This exhibition revisits the architecture and analyzes the intellectual framework, together with a symposium, lecture evening and film screening, providing a rich insight into this forgotten avant-garde.
'The Eindhoven School: a forgotten avant-garde' is het resultaat van een langlopend onderzoeksproject van het Curatorial Research Collective. In de jaren tachtig genoot een groep architecten, opgeleid aan de Technische Universiteit Eindhoven (TU/e), bekendheid onder de noemer 'Eindhovense School'. Deze voorhoede van de Nederlandse architectuur, met uiteenlopende architecten als Wim van den Bergh, Jo Coenen, Bert Staal, Rudy Uytenhaak en Gert-Jan Willemse, deelde een interesse voor theorie en geschiedenis. De tentoonstelling herziet deze architectuur en analyseert het intellectuele raamwerk; samen met een lezingavond, symposium en filmvertoning wordt een veelzijdig beeld gegeven van deze vergeten avant-garde.
Opening | The Eindhoven School: A Forgotten Avant-Garde
Friday 23 February | 20:00 – 22:00 | @OMI
Festive opening of the exhibition, with Chris van Langen, director of the Rotterdam Academy of Architecture, who will talk about his time at TU/e in the 1980s and reflect on architecture education then and now. Furthermore, architect Jos van Eldonk will talk about the Eindhoven School as a group of diverse people and ideas.
Feestelijke opening van de tentoonstelling met Chris van Langen, directeur van de Rotterdamse Academie van Bouwkunst, die spreekt over zijn tijd op de TU/e in de jaren tachtig en reflecteert op het onderwijs van toen en nu. Architect Jos van Eldonk (Common Affairs) gaat vervolgens in op de Eindhovense School als een groep met uiteenlopende personen en ideeën.
Symposium: Whatever happened to history and theory in Dutch Architecture Culture?
Thursday March 8 | 17:00 – 22:00 | @Het Nieuwe Instituut
On the occasion of the exhibition The Eindhoven School: a forgotten avant-garde being presented at OMI Rotterdam, the symposium "Whatever Happened to History and Theory in Dutch Architecture?" will discuss the current role, position, and state of architecture history and theory in Dutch architecture culture. Through the contribution of a new generation of architecture practitioners, critics, and historians, this symposium will identify critical issues and question the underlying structures that shape (and have shaped) architecture history and theory in the Netherlands. The symposium will be concluded with a keynote lecture by Bart Loostma.
Symposium over de huidige rol, positie en staat van architectuurgeschiedenis en –theorie in de Nederlandse architectuurcultuur, met bijdragen van een nieuwe generatie architecten, architectuurcritici en –historici. Het symposium wil kritieke problemen identificeren, alsook de onderliggende structuren ondervragen die architectuurgeschiedenis en –theorie in Nederland vormen en hebben gevormd. Het symposium wordt afgesloten met een keynote-lezing van architectuurcriticus Bart Lootsma.
Free, register via tickets
Film Screening O.M.A. Rem Koolhaas
Wednesday March 14 | 20:00 – 22:00 | @OMI
Filmmaker Jef Cornelis and theoretician Geert Bekaert frequently worked together on films about architecture, for the Flemish broadcaster BRT. This film about the early years of OMA, the Office for Metropolitan Architecture, shows Rem Koolhaas, who elaborates on a number of projects.
Filmmaker Jef Cornelis en theoreticus Geert Bekaert werkten voor de Vlaamse omroep BRT regelmatig samen aan films over architectuur. Deze film over de beginjaren van OMA, het Office for Metropolitan Architecture, toont Rem Koolhaas die zijn uiteenlopende projecten toelicht.
O.M.A. Rem Koolhaas, 1985, Jef Cornelis, 76 min.
Tickets (incl. a drink): Normal € 5,- | Student € 3,50
De Grote Rotterdamse Architectuurquiz 2020

3 Juni 2020 De eerste Grote Rotterdamse Architectuurquiz leverde na 55 – makkelijke & moeilijke, serieuze & ludieke – vragen…

Read more

taco

Anders Wonen

27 November 2019 Nina Aalbers (ArchitectuurMaken) en Francine Houben (Mecanoo) gaven een presentatie over hun eerste project. In het Oude…

Read more

taco

Opening West Side Stories

20 November 2019 In a crowded Leeszaal West, alderman Said Kasmi received the book 'Stadsvernieuwing in Rotterdam' and the new…

Read more

taco
Rotterdam's architecture is placed in a new perspective with special itineraries, photos, postcards, maps and more.
Visit us at Schiekade 205, Rotterdam