Rotterdam, Stad in verandering bekijkt de hedendaagse stad door de ogen van zes fotografen. De tentoonstelling toont uiteenlopende beelden; van familieportretten tot architectuuriconen, van recreërende bewoners tot rondtrekkende toeristen. Bekijk de expositie bij OMI en ga mee met een van de expedities door de Rotterdamse binnenstad.
Rotterdam, A Changing City shows the contemporary city through the eyes of six photographers. The exhibition displays a wide range of images; from family portraits to architecture icons, from recreating residents to wandering tourists. Visit the exhibition at OMI and join one of the expeditions through Rotterdam.
Rotterdam stad in verandering
8 March – 30 April 2017
OMI en online tijdschrift Vers Beton presenteren een unieke kijk op Rotterdam. Na de succesvolle publicatie 'Help, we zijn populair!' tonen zes fotografen hun werk. Iedere fotograaf verkent een ander stedelijk thema waaronder stadscultuur, iconen en het imago van de stad. Samen laten ze de veelzijdigheid zien van Rotterdam en haar bewoners.
Met werk van Ossip van Duivenbode, Frank Hanswijk, Willem de Kam, Peter de Krom, Geisje van der Linden en Hielke Zevenbergen.
OMI and online magazine Vers Beton present a unique perspective on Rotterdam. Following the successful publication 'Help, we zijn populair!', six photographers exhibit their work. Each photographer explores a different urban theme, such as city culture, icons and the image of the city. Together they show the versatility of Rotterdam and its inhabitants.
With the works of Ossip van Duivenbode, Frank Hanswijk, Willem de Kam, Peter de Krom, Geisje van der Linden and Hielke Zevenbergen.
Flaneur in Rotterdam | The street as microcosm
10 May 2017, 20:00 (EN)
Flaneur is one of the most interesting contemporary magazines about cities. Every edition considers another street from a variety of angles. With essays, photos, interviews, poems, drawings and even music compositions, a multi-faceted portrait of one street is given: the street as a microcosm. Fabian Saul and Grashina Gabelmann, the chief editors, will talk about their unconventional and inspiring approach.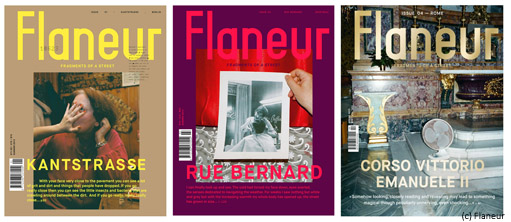 Flaneur in Rotterdam is a collaboration between Het Nieuwe Instituut, Goethe-Institut Niederlande and OMI.
Tickets €5,- (incl. a drink) 
VAN NELLE FABRIEK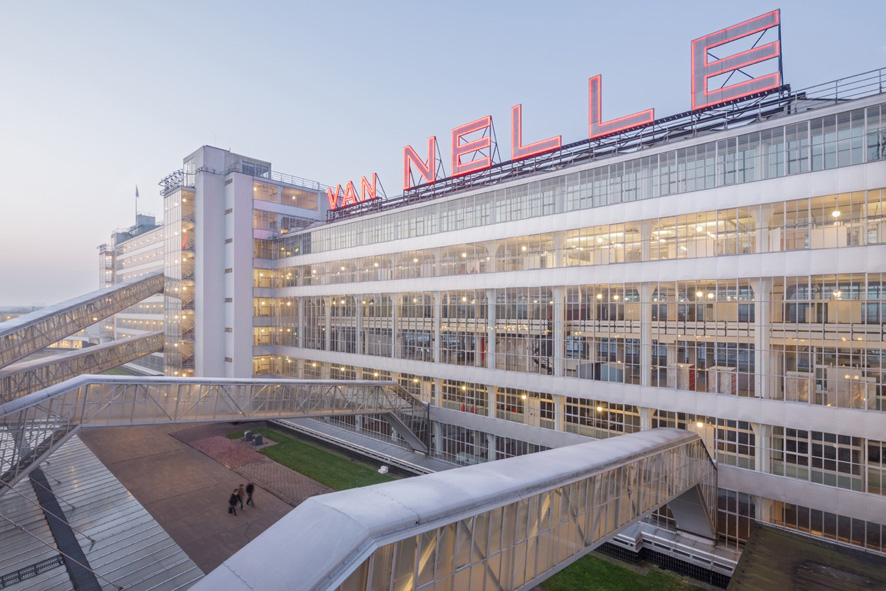 De Van Nellefabriek is hèt voorbeeld van het Nieuwe Bouwen, in 2014 uitgeroepen tot UNESCO Werelderfgoed. Licht, lucht en ruimte gaven een nieuwe betekenis aan de architectuur. OMI organiseert rondleidingen onder leiding van een deskundige gids.
The ultimate symbol of the Nieuwe Bouwen style, the Van Nelle Factory was designated a UNESCO World Heritage Site in 2014. Light, air and space gave new meaning to the architecture. OMI offers tours with an experienced guide.
Sat & Sun, 12:00 & 14:00
Price: € 16,- / Students € 12,- / Children 4-12 years, € 8,-
Tickets
Start: Van Nelleweg 1
ROTTERDAM BYCYCLE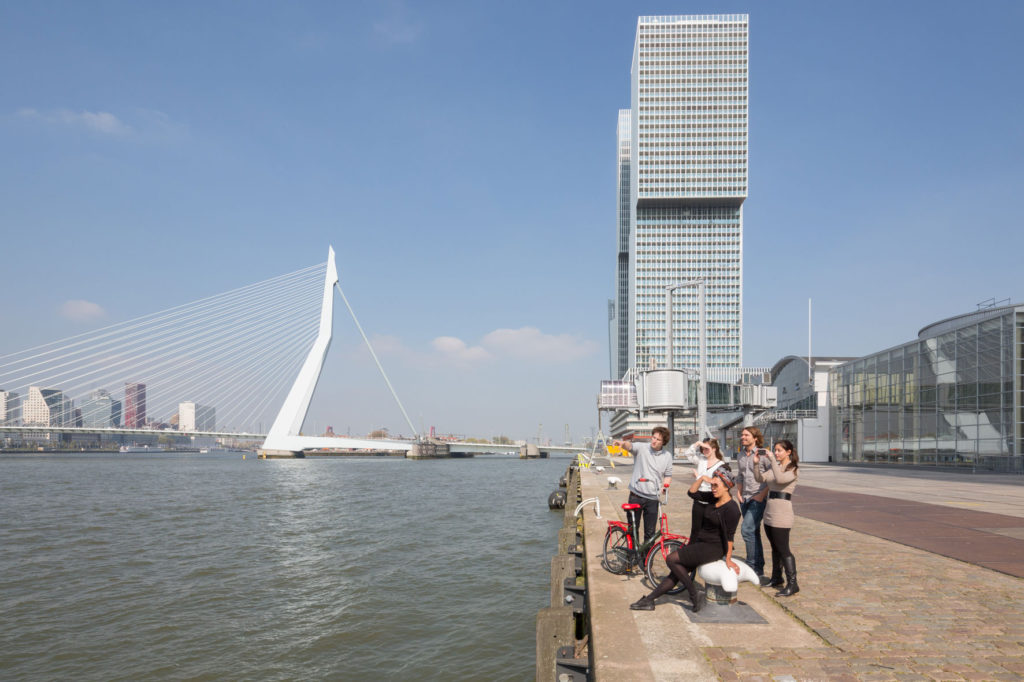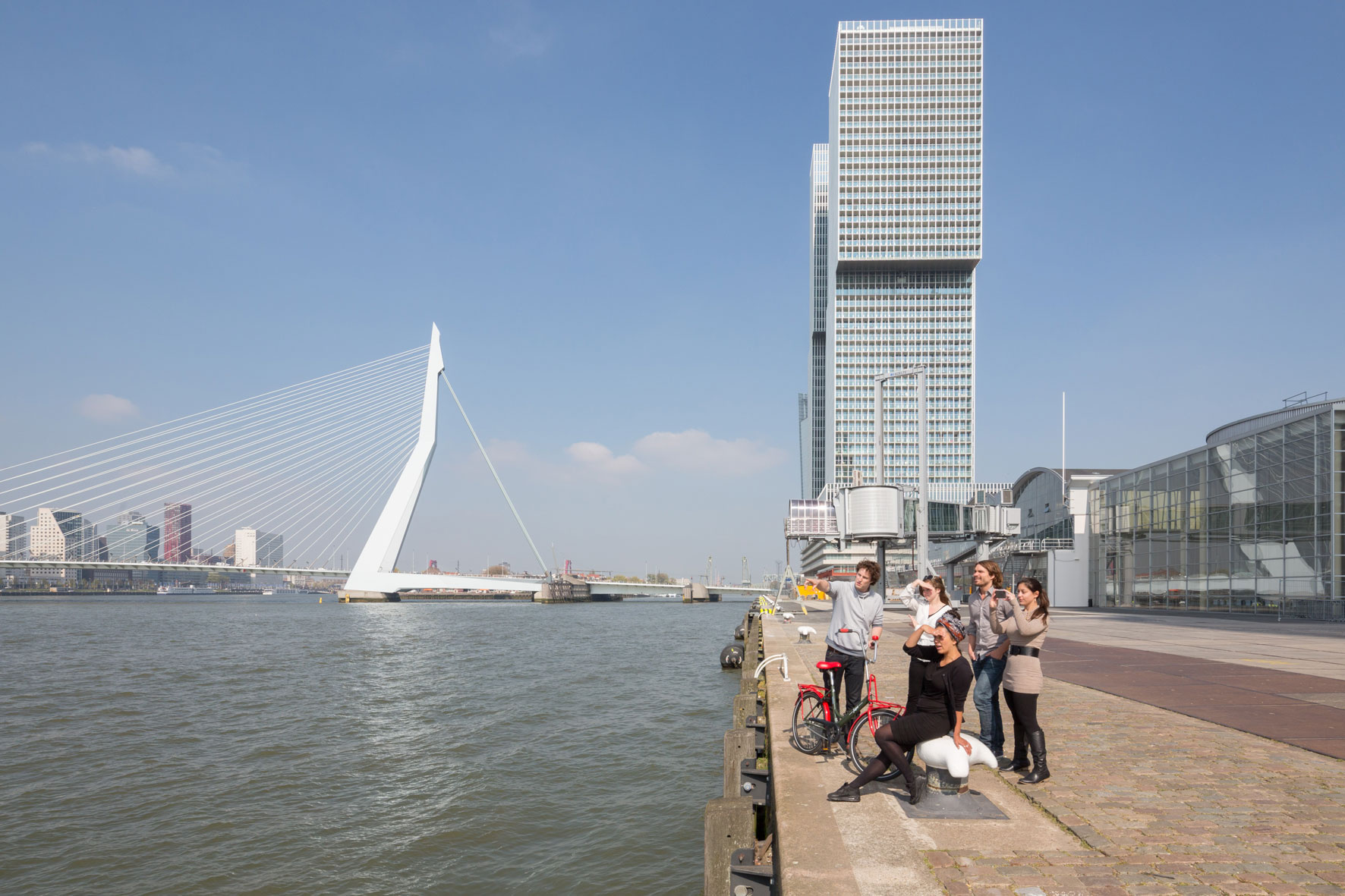 Stap op de fiets en ontdek de vernieuwende architectuur in Rotterdam. U fietst kriskras door het stadscentrum, over de imposante bruggen, langs de havenkades en stapt u af om de spectaculaire gebouwen beter te ervaren. De gehele moderne architectuurgeschiedenis trekt aan u voorbij.
Get on your bike and discover the progressive architecture of Rotterdam. You'll crisscross through the city centre, across the impressive bridges, along the quaysides and get off your bike to better experience these spectacular buildings. The entire history of modern architecture will pass by you.
Starting from 15 April, Sat & Sun, 11:00
Price: Single € 25,- / Double € 45,- / Children 8-12 years, € 15,- / Students € 15,-
Tickets
Start: OMI, Schiekade 205
Masterpieces
Rotterdam ademt moderne architectuur met vele meesterwerken. De serie Masterpieces brengt ze in beeld met originele tekeningen en historische foto's van het archief van Het Nieuwe Instituut.
Nieuw in de collectie is de Kiefhoek masterpiece.
Rotterdam breathes modern architecture with numerous highlights. The Masterpieces explore them with original drawings and historical photographs from the archive of The New Institute. 
New in the collection is the Kiefhoek Masterpiece.
West Side Stories #1

30 May 2019 A great start of West Side Stories took place yesterday at the POST Podium at the Coolsingel.…

Read more

OMI
Rotterdam's architecture is placed in a new perspective with special itineraries, photos, postcards, maps and more.
Visit us at Schiekade 205, Rotterdam