Rotterdam Architecture Maps
Architecture Maps Rdam surveys the city's best architecture and urban design in maps, photographs and routes. The numerous attractions include squares, parks, bridges, tunnels, houses, shops, offices, cafés, restaurants, theatres and museums. Travel from project to project and savour the atmosphere and character of distinctive Rotterdam districts. An unique design by 75B and photographs by Ossip van Duivenbode, realised with the support of AIR.
Architecture Maps Rdam brengt het beste van de Rotterdamse architectuur en stedenbouw in beeld met kaarten, foto's en routes. Bezoek de talloze bouwwerken zoals pleinen, parken, bruggen, tunnels, woningen, winkels, café's, kantoren, musea en pakhuizen. Op reis langs de projecten proef je de sfeer van de verschillende stadsdelen. Een uniek ontwerp van 75B, met foto's van Ossip van Duivenbode en de support van AIR.
Prijs / price: € 8,95 (available at OMI & NAi Booksellers)
OMA  Fiction | Non Fiction
The cities of Rotterdam and The Hague occupied a special position in the development of OMA. The southern Randstad boasts the highest density of OMA projects in the world, with countless studies, designs, built and (already) demolished works. OMA has reflected on every facet of the urban experience. OMA  Fiction | Non Fiction is a voyage of discovery through the work of OMA, past 40 years of thinking about this urban region.
Den Haag en Rotterdam spelen een cruciale rol in de ontwikkeling van OMA. De zuidelijke randstad heeft de hoogste dichtheid aan OMA projecten ter wereld, van studies en competities tot gebouwde en (alweer) gesloopte bouwwerken. OMA heeft hier over elk facet van de stedelijk beleving nagedacht. OMA Fiction | Non Fiction is een ontdekkingstocht naar het werk van OMA, langs bijna 40 jaar denken over deze stedelijke regio.
Prijs / price: € 5,- (available at OMI & NAi Booksellers)
Rotterdam's city centre is rich in post-war architecture and art. Reliefs, stained concrete and mosaics are magnificently integrated into the architecture. A specially designed roadmap leads you along Rotterdam's post-war art; from Central Post that houses Louis van Roode's light cathedral to Team Coenen's food cathedral in the Markthal. Art & Architecture is created in collaboration with BKOR and Sculpture International (CBK Rotterdam).
Het Rotterdamse stadscentrum is rijk aan wederopbouwarchitectuur en -kunst. Reliëfs, glas-in-beton en mozaïeken zijn prachtig geïntegreerd in de architectuur. Een speciale routekaart leidt langs de kunst in het naoorlogse Rotterdam, van Central Post met de lichtkathedraal van Louis van Roode tot de Markthal met de voedselkathedraal van Team Coenen. Kunst & Architectuur is gerealiseerd in samenwerking met BKOR en Sculpture International (CBK Rotterdam).
Prijs / price: € 3,50 (available at OMI & NAi Booksellers)
Rotterdam breathes architecture with numerous highlights. The Masterpieces explore them with original drawings and historical photographs from the archive of The New Institute. The Blijdorp Zoo, Van Nelle Factory, Sonneveld House, Cube Houses and Kiefhoek can be visited, with these special cards you can take the original ideas home.
Rotterdam ademt moderne architectuur met vele meesterwerken. De serie Masterpieces brengt ze in beeld met originele tekeningen en historische foto's van het archief van Het Nieuwe Instituut. Met deze speciale kaarten neem je de originele ideeën mee naar huis, voor of na een bezoek aan Diergaarde Blijdorp, Huis Sonneveld, de Kubuswoningen, Van Nellefabriek of de Kiefhoek.
Prijs / price: € 2,- (3 for €5,-)
The urban design of Rotterdam shows the ever changing ideas about living in the city. The result is a patchwork of unique neighbourhoods designed by famous architects. The spatial composition of the Kiefhoek neighbourhood (by J.J.P. Oud) and Pendrecht district (by Lotte Stam-Beese) are used by OMI to create modern urban bags.
New in the collection is the Van Nelle Urban Bag.
De Rotterdamse stedenbouw toont de veranderende opvattingen over het leven in de stad. Het resultaat is een lappendeken van unieke buurten en wijken die zijn ontworpen door beroemde architecten. De ruimtelijke compositie van de Kiefhoek (J.J.P. Oud) en Pendrecht (Lotte Stam-Beese) zijn de basis voor de hedendaagse tassen van OMI.
Nieuw in de collectie is de Van Nelle Urban Bag.
Prijs / Price: € 5,-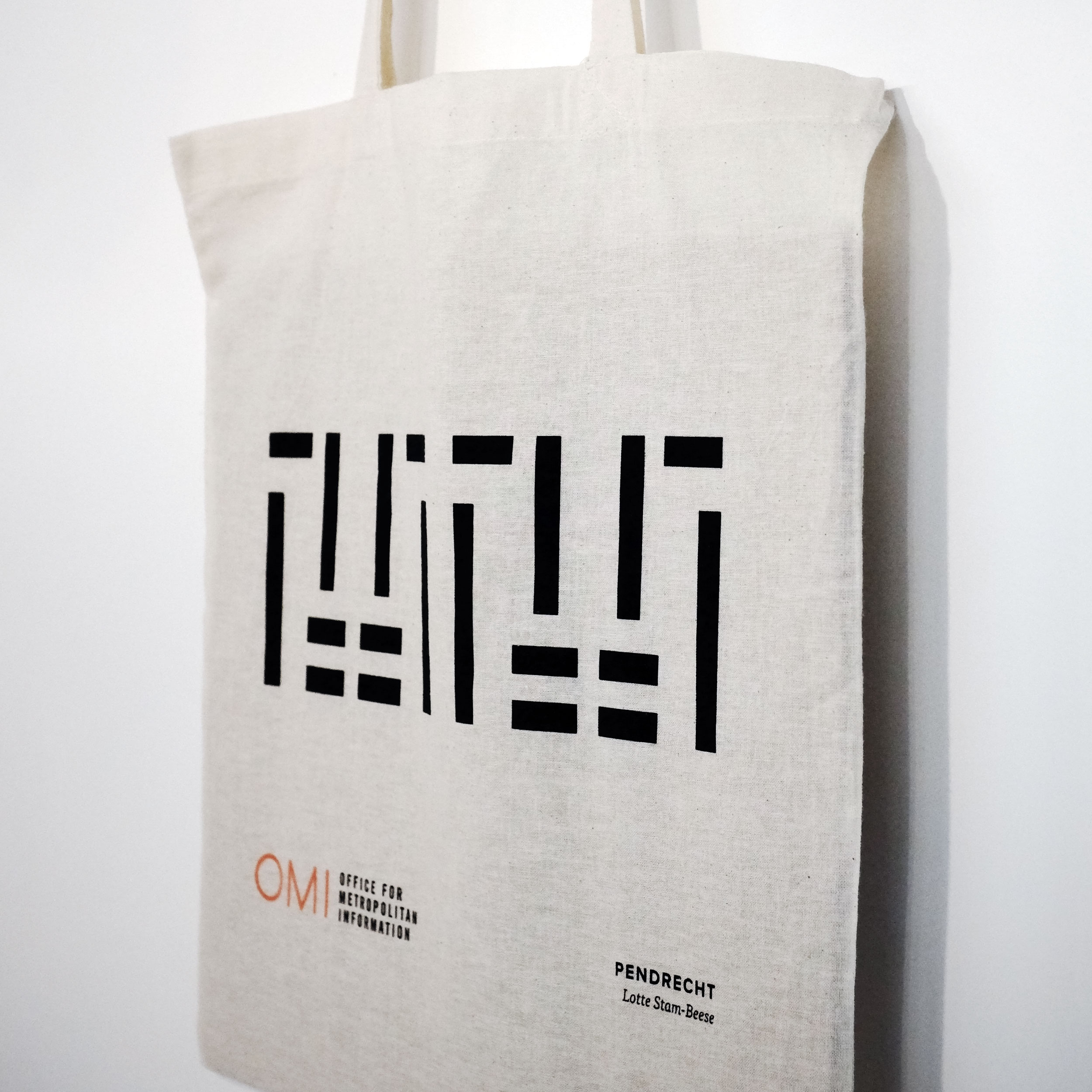 Rotterdam icons photographed from different perspectives by Ossip van Duivenbode. Each contemporary building is shown from two angles, the building in the urban setting and a special view form above. Among others the Markthal (MVRDV), De Rotterdam (OMA), Erasmus Bridge (UN Studio) and Rotterdam Centraal (Team CS).
De Rotterdamse iconen gefotografeerd vanuit verschillende perspectieven door Ossip van Duivenbode. Ieder gebouw wordt vanaf twee standpunten getoond, het gebouw in de stedelijke omgeving en een speciale blik van bovenaf. Onder anderen de Markthal (MVRDV), De Rotterdam (OMA), Erasmusbrug (UN Studio) en Rotterdam Centraal (Team CS).
Prijs / price: € 2,- (per set)